HOW MEXICO's DEADLIEST MOST WANTED DRUG LORD ESCAPED FROM PRISON (AGAIN)…
Joaquín Archivaldo Guzmán Loera is a Mexican drug lord who heads the Sinaloa Cartel, a criminal organization named after the Mexican Pacific coast state of Sinaloa where it was formed…
Joaquín Guzmán Loera, a drug kingpin known as El Chapo, escaped from
Mexico's most secure prison on Saturday night, humiliating officials who had
promised that Mr. Guzmán's 2001 escape would never be repeated.

Nicknamed "Shorty" for his height, Guzman already had pulled off one elaborate escape from a maximum-security prison. In 2001, he managed to break free while reportedly hiding in a laundry cart. It took authorities 13 years to catch him — closing in as he was sleeping at a Mexican beach resort.
Guzman took a sophisticated route during his escape, officials believe: a tunnel complete with lighting, ventilation and even a modified motorcycle on tracks "that was likely used to remove dirt during the excavation and transport the tools for the dig," Mexican National Security Commissioner Monte Alejandro Rubido said.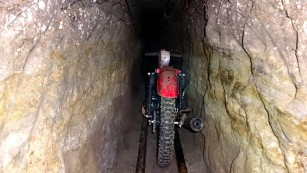 The tunnel began with a 50-by-50-centimeter (20-by-20-inch) opening inside the shower of Guzman's cell, Rubido said. The tunnel stretched for about a mile and ended inside a half-built house.
It's likely the Sinaloa cartel had spent years infiltrating the country's prison system, a Mexican official told mAdE t.V sources. Whoever helped in the plot likely had the architectural plans for the prison that pointed them toward the shower area, the official said.
Guzman has been a nightmare for both sides of the border. He reigns over a multibillion-dollar global drug empire that supplied much of the marijuana, cocaine and heroin sold on the streets of the United States.
The U.S. Justice Department describes the Sinaloa cartel as "one of the world's most prolific, violent and powerful drug cartels." It says Guzman was considered the world's most powerful drug lord until his arrest in Mexico in February 2014.
"He is a complete savage," law enforcement analyst Tom Fuentes said. "What they do, and how they do business, is based on complete terror. … They kill journalists, politicians, police officers, corrections officers. And then not just that person, but every member of their family."
The Sinaloa cartel moves drugs by land, air and sea, including cargo aircraft, private aircraft, buses, fishing vessels and even submarines, the Justice Department has said.
The cartel has become so powerful that Forbes magazine listed Guzman in its 2009 list of "self-made" billionaires. Guzman's estimated fortune at the time was $1 billion.
He came out through the tunnel opening below…
Giztzzz…                 mAdE t.V!
Comments
comments