FASHION: KANYE WEST HANDS OUT HIS YEEZY BOOST SNEAKERS TO UNSUSPECTING FANS…
For a few unsuspecting customers at the adidas Originals Soho, NYC store who sought to purchase the Yeezy Boost, their new pair of sneakers came with another memorable moment. Kanye West surprised some buyers of his new shoe Saturday morning (Feb. 14), spreading the love on Valentine's Day by hand delivering their new apparel. A few still shots were captured by onlookers who were at the right place at the right time which you can check out below.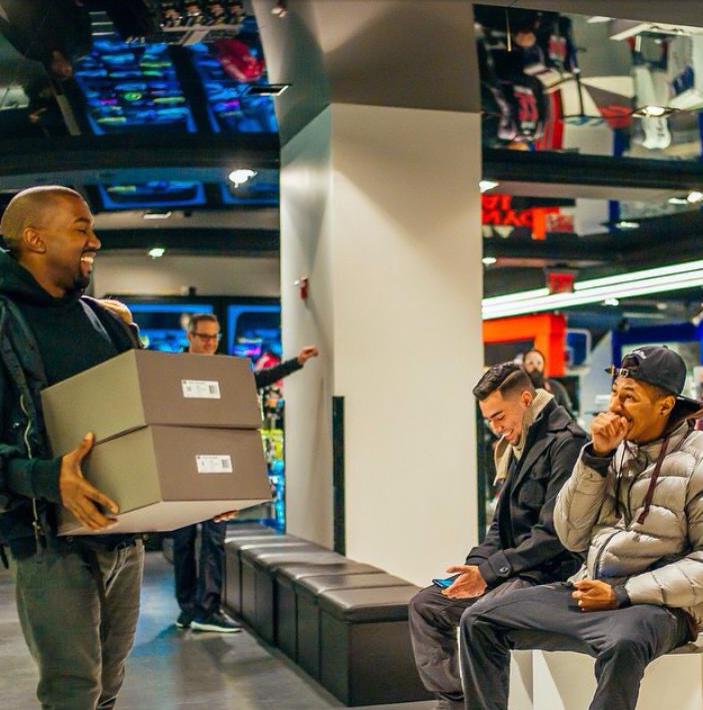 The "Only One" rapper took over the Big Apple this week with the release of his aforementioned adidas collection equipped with a a showcase for New York Fashion Week and an outdoor concert to celebrate the night (Feb. 12). The Chi-town native also appeared at Drake's performance at Irving Plaza where he rapped his verse on Chief Keef's "I Don't Like" melody.
Mr. West is still working on his forthcoming album, but no further information on a release date or hints at other collaborators have been announced… Glitter… mAdE t.V!
Comments
comments